SATIS TV 2020 – Focus on the SATIS Awards 2020!
The SATIS will meet you every month to present you with a winner of the SATIS 2020 Awards.

SmartPanel RSP-1232HL by Reidel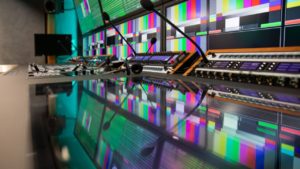 The SmartPanel RSP-1232HL from the 1200 series reflects Riedel's latest development in multifunctional user interface. It is part of Riedel's move away from designing panels for a single application to create intelligent human-machine interfaces that can host different applications running simultaneously on one hardware device (control, monitoring, intercom, etc.), thus increasing flexibility, agility and user comfort.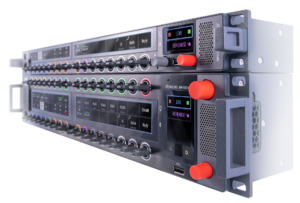 To achieve this, its design has been particularly meticulous with, in addition to its native SMPTE-2110 IP connectivity benefiting from the JT-NM interoperability guarantee, high-resolution colour touch screens, 32 hybrid keys surrounded by a signalling LED ring, each integrating a rotary encoder, key banks, logic groups, qualitative audio monitoring, etc. This is a major step forward aimed at constituting one of the building blocks of the new workstations.

Currently in full deployment at various clients, including major audiovisual groups, the use cases will soon be presented in the Mediakwest magazine.



Pixellot Prime by Get-Live

The Pixellot Prime is an advanced AI solution dedicated to produce automatically sports video and datas. Pixellot Prime camera is an 8K camera equipped with 4 2/3-inch sensors. The size of the sensor gives the same depth of field and sensitivity as a traditional broadcast camera. It produces images in 1080P 50i and 25i, allowing it to be easily integrated into a broadcast and OTT workflow simultaneously.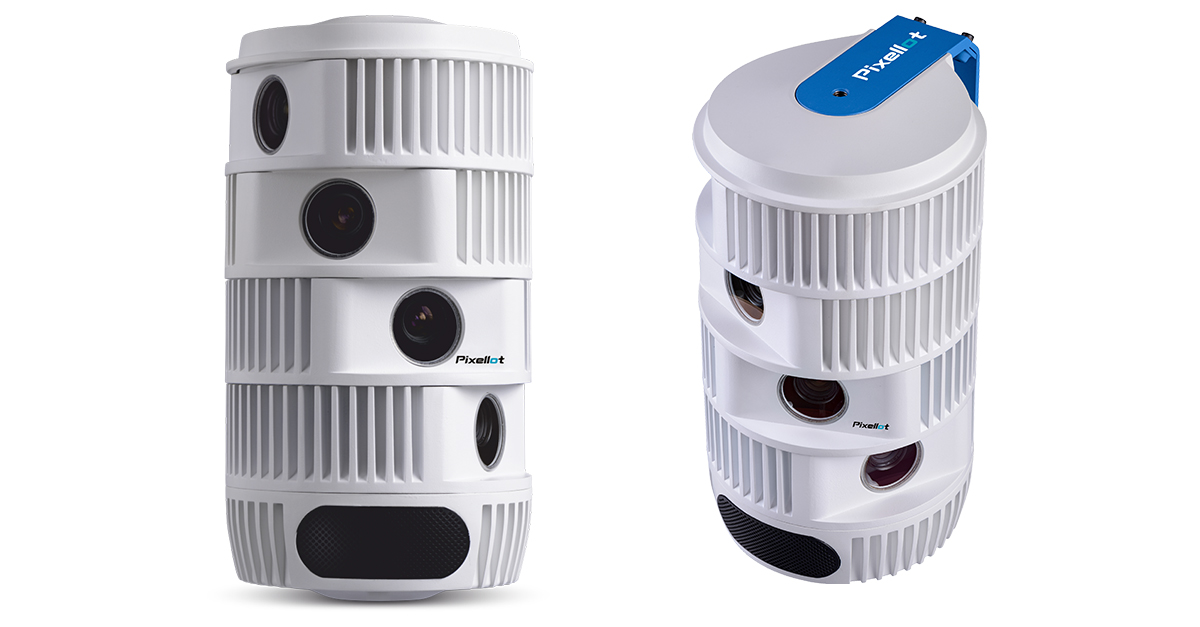 The Pixellot Prime is associated with software based on 5 years of machine learning on 16 different sports. Using Artificial Intelligence, it is possible to reproduce the axis changes usually made from several cameras.


Production and distribution can be controlled on site or remotely. In addition to access to production, Pixellot Prime allows automated production of a match highlights, as well as video analysis, packaging and statistics.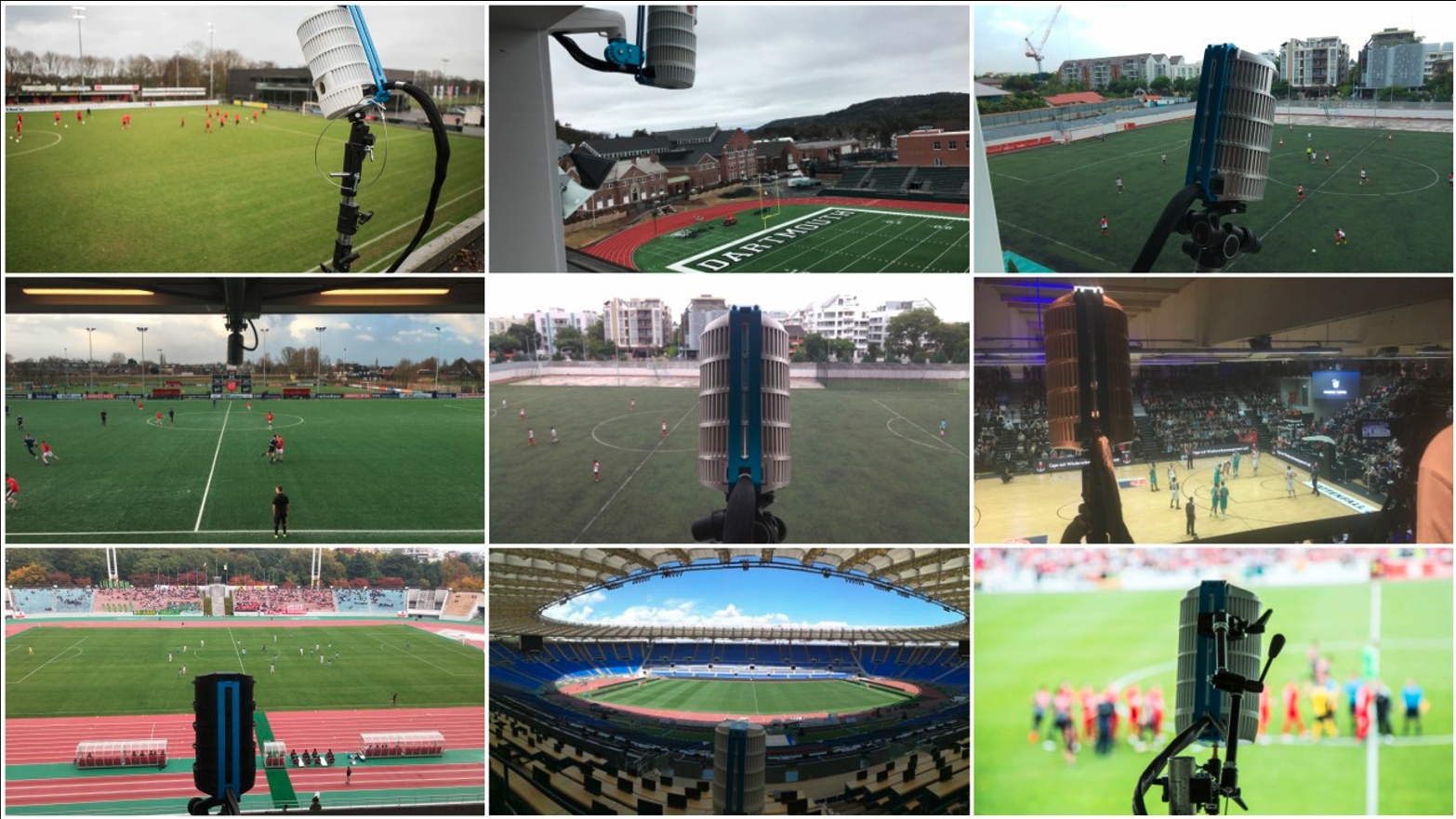 The Pixellot Prime is the ideal tool for sports wishing to generate visibility, monetise their content or have video tools to improve the coaching of a team within a league or federation.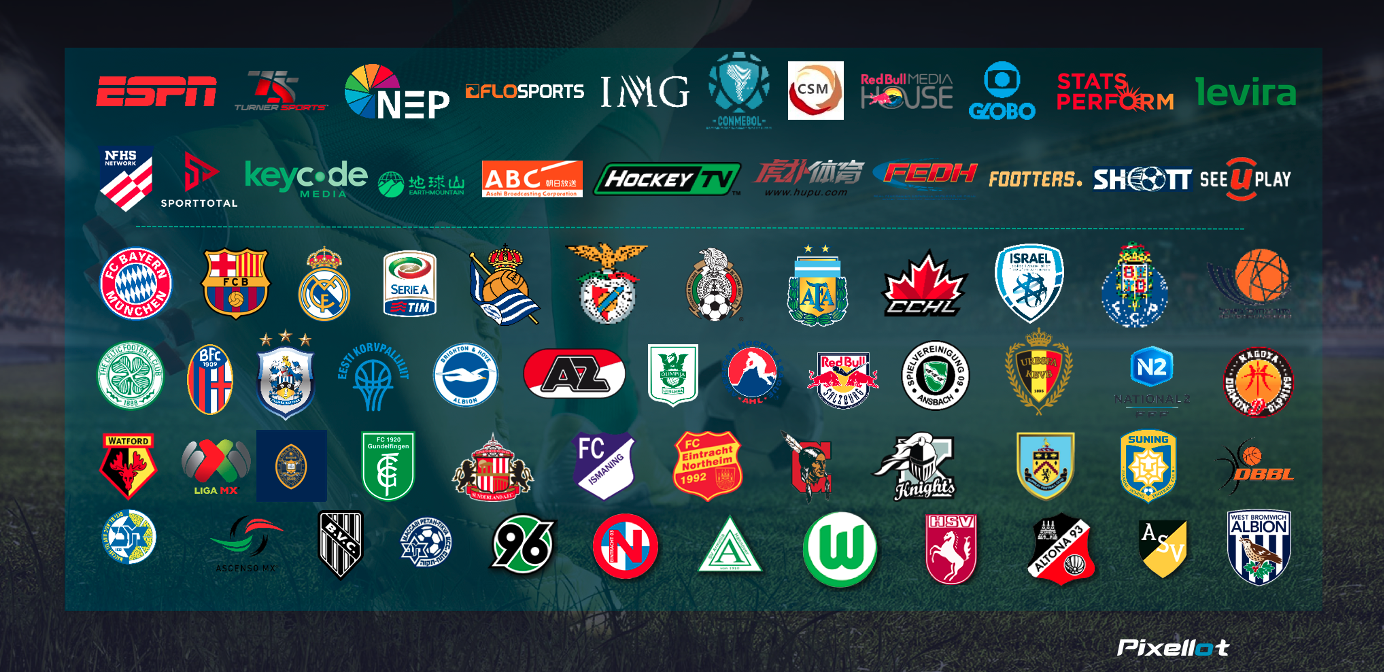 RA Stades by Dreamwall

In 2017, Dreamwall was entrusted by France Télévisions with the set animation for the Presidential elections' evenings. In 2018, it is TF1's turn to entrust them with the World Cup sets virtual scenographies. The Belgian company is a true pioneer in Augmented Reality technologies for broadcasting and has risen to the challenges in front of millions of viewers. Always on the lookout for new innovations to improve the dynamics of content for viewers and to offer broadcasters virtual marketing tools, Dreamwall has been developing a new and very promising service since the beginning of 2020, the RA Stades, which won a SATIS 2020 Awards.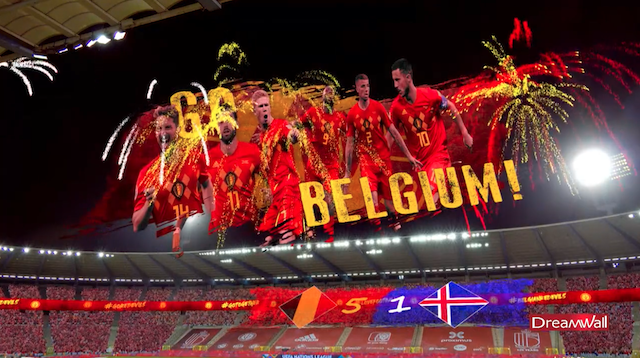 Augmented Reality in stadiums allows to enhance sports events by dressing up sports stadiums during live broadcasting events. This technology serves on the one hand to enhance sporting events and to keep the interest of fans despite the current restrictions and on the other hand represents a commercial opportunity as it increases the possibilities of sponsorable content.

In September 2020, Dreamwall had the opportunity to customise the King Baudouin stadium with a virtual audience and a complete dressing up of the site for the Nations League match of the Red Devils. These first tests, which were not broadcasted live at the time, proved to be a real technical success and allowed us to collaborate again with the RBFA during the 3 home games played by the Red Devils in December 2020. Virtual LED panels, editorial content on the main camera and a Beauty Shot camera were inserted and broadcast on the two Belgian channels broadcasting the match that night: VTM and RTL.

Since then, the number of contacts has exploded. Clubs, International Federations of Football, Rugby, Hockey, Tennis… and also motor racing are keen to access the service, understanding the growing and unavoidable marketing interest it offers. Especially since RA Stades is compatible with existing mobile applications and with the 5G deployment, the content is of high quality.

The system can be implemented on one or more cameras. It is up to the production company to select the cameras it wishes to "enrich". A tracking system and a rendering engine are added to these. Dreamwall can take care of the whole project from the stadium modelling, the creation of graphic elements to the setup and the live operations.

The customization of the stadium can be declined in 4 axes:
Editorial design: score display, team composition, tribune fresco with the portrait of the players of the match or scorer, …
Advertising: LED banners, virtual screens or tarpaulins, addition of objects (e.g. a car on the pitch behind the goal)
Festive dressing: fireworks, banners, flags, airship, fresco in the sky, virtual extension (addition of a dome, projectors, stands…)
The virtual audience: animated and personalised (colour, movement, tifo) and adapted to the different sizes of the stands

Dreamwall is currently concentrating all its energies in order to perform the service. Join Thibault Baras as he presents RA Stades in detail.

ILME- FX6 Cinema Line by Sony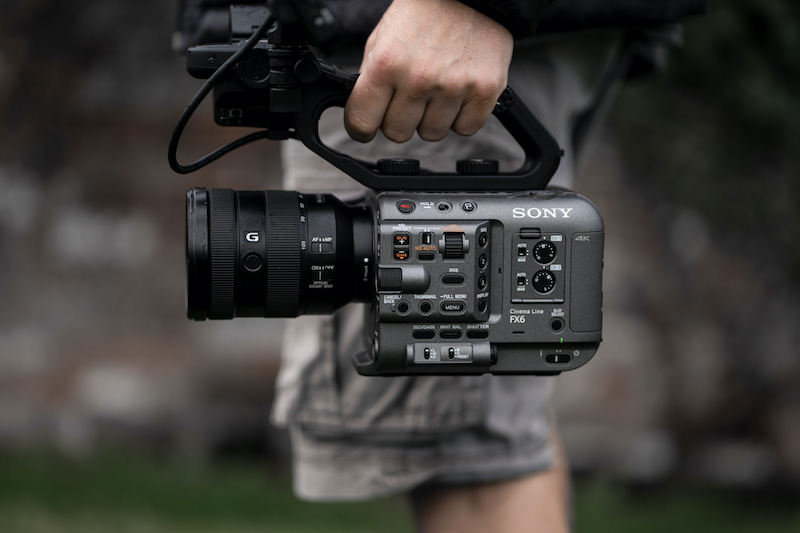 Launched at SATIS TV, the FX6 has all the makings of a great camera. This versatile camera is aimed at freelancers, producers, but also rental companies who want a camera that is comfortable for interviews, fiction, corporate, documentaries… It combines functions from two worlds, that of DSLRs and that of film-oriented video cameras.

Only a few months after its release, Sony has already planned a firmware update to support 4K 120p RAW output with an external recorder from this May.
Read more..;
In the meantime, check out the feedback from Essex, UK based filmmaker James Matthew who used the Sony FX6 to make his short film Sky on Fire shot on the Island of Madeira.



SATIS : Can you present your short film Sky on Fire ?

James Matthew : In my short film Sky on Fire, I take the audience on a journey of awe and adventure as we relive a moment experienced by our character, Luke. Being able to witness extraordinary moments in nature, means taking on some extraordinary environments on the journey. We follow Luke as he takes on the harsh and beautiful conditions on the Island of Madeira where he ventures to the top of the island and experiences the sky on fire.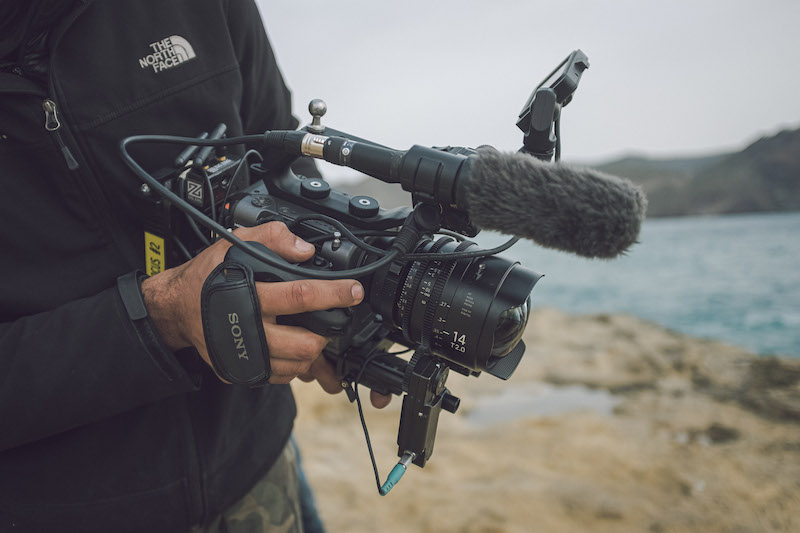 SATIS : Give us your top 3 best improvements available on the FX6?

James Matthew : My favourite feature on the FX6 is definitely the variable ND filter and the option to use it in auto mode. This feature was fundamental in me being able to keep the look of my film consistent throughout, and not compromising on the image quality to achieve the correct exposure. With a variable ND filter, you can keep your shutter speed and depth of field constant which gives that consistency I was looking for.

Another improvement I appreciated while shooting was the colour science. It has to be the best I've seen apart from the higher end Sony cinema cameras, Venice and FX9. The colours are extremely accurate and even more with the S-Cinetone picture profile whilst also including the 10-bit internal colour depth which gives the image better highlight roll-off (no clipping in the clouds in a bright sky for example) along with the added benefit of more flexibility in post-production.

A final welcome improvement is for me the rolling shutter performance. I'm a huge fan of handheld operation with quite a lot of camera movements and panning. The rolling shutter is almost non-existent in this camera and allows me to confidently operate those movement without worrying about too many straight lines bending in the background of my shots.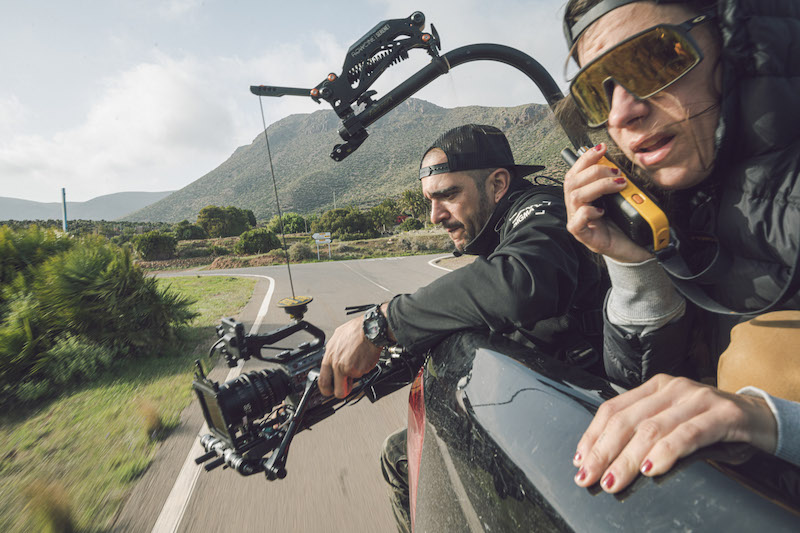 SATIS : Sky on Fire has a strong visual identity. How did you go about achieving this?

James Matthew : To achieve certain looks, you have to pick specific lenses with different focal lengths to express different emotions and tell your story. For this short, I used the Sony G Master FE 16-35mm f/2.8 at 35mm for a lot of my shots. I wanted to get that mid-range of seeing our character close up, whilst also being able to see him in his environment as this was a big element of our story. For close-ups on the main character, I used the Sony FE 85mm f/1.8 to isolate the character from the background and focus certain scenes on his expressions and emotions. With the fast aperture of f/1.8, coupled with the full frame sensor of the Fx6 and the internal ND filter, the look I was able to achieve gave me the option to have a super shallow depth of field when I wanted to isolate the character, while not changing my look. It was important to jump back and forth with these two lenses to show the evolution of emotions of my character and the changing environment he was in.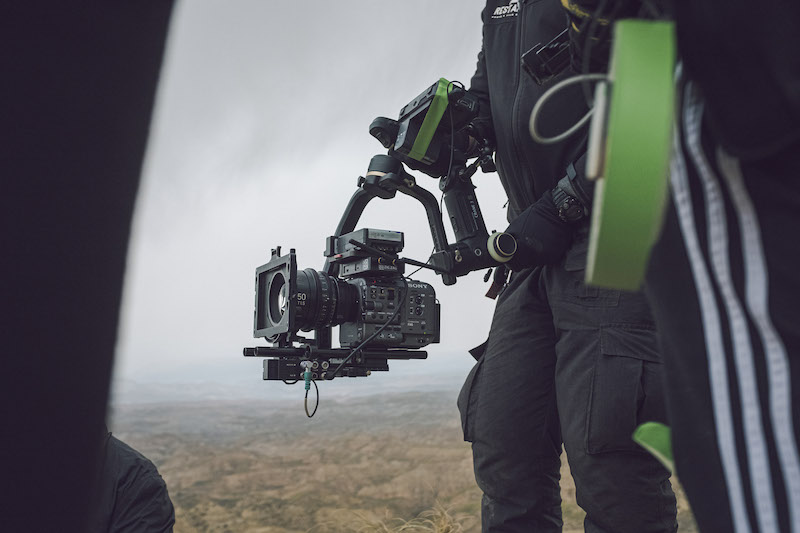 SATIS : For all the filmmakers who want to use the FX6, what advice do you have for them?

James Matthew : A quick tip for anyone shooting with the Sony FX6 would be to rely on the new variable ND. If you have a vision or look in mind, don't feel like you have to compromise on that look to keep the exposure right. The variable ND filter will help you be more creative and give you more freedom in your shooting style. This camera is a great tool for filmmakers: Full frame, excellent low light performance, variable ND filter and excellent 10-bit Color Science. It's designed to help us create great cinematic footage and achieve your personal look. Just set up your lights and start shooting!

Discover now Sky on Fire.

TriCaster 2 Elite by 3D Storm – NewTek

TriCaster 2 Elite is the most complete and powerful 4K UHD live video production system on the market. TriCaster 2 Elite is designed for production in today's multi-source world with new core functionality. Almost all web conferencing tools, including Skype, Microsoft Teams, Zoom Meetings and GoToMeeting, are supported, as well as all IP video sources, including NDI, SRT, RTMP, RTP, HTTP, SRC and smartphones. These, along with almost unlimited traditional SDI sources, can be viewed and used simultaneously, meaning users will be able to connect with studio guests and remote video callers without worrying about connectivity.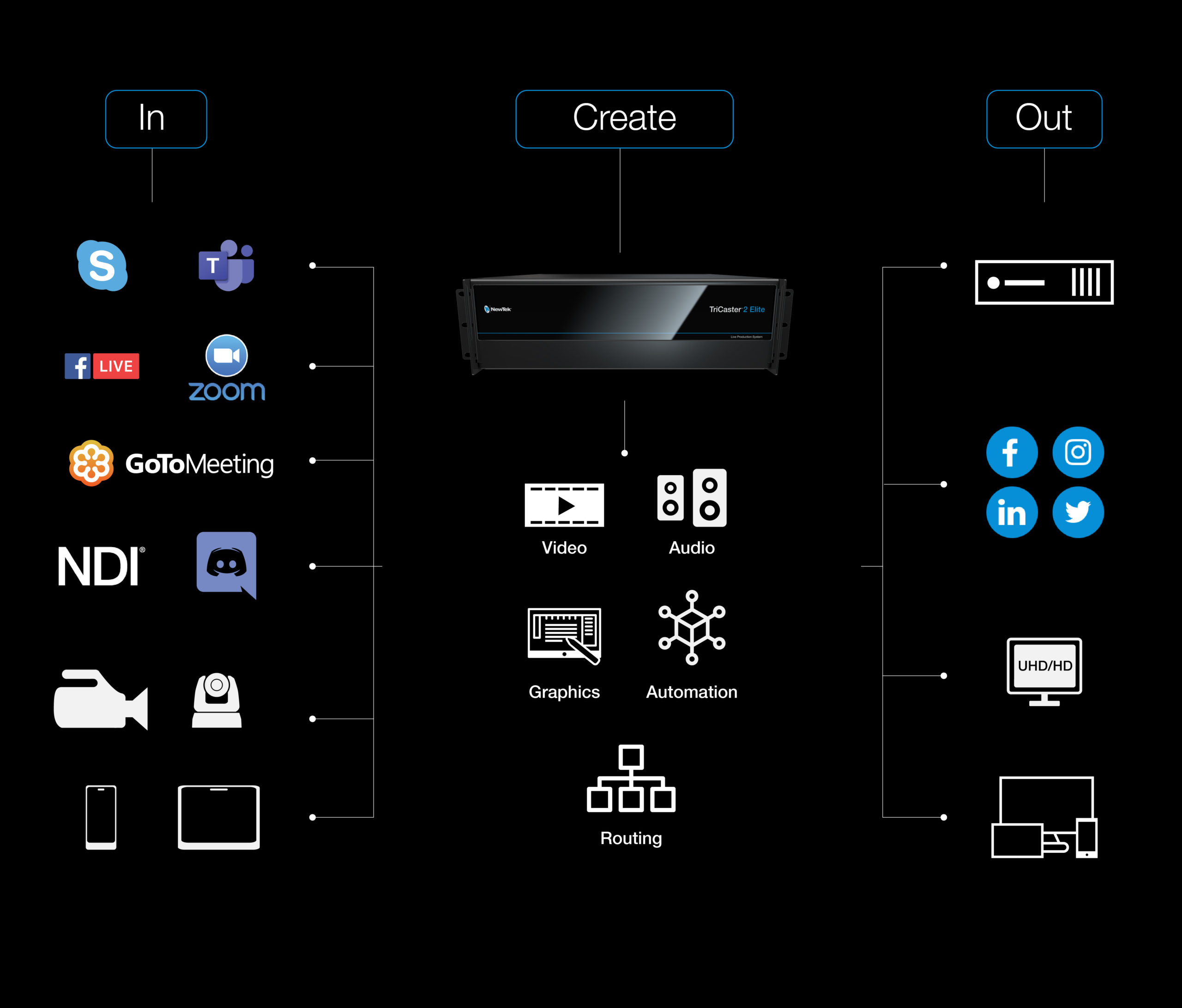 "Since the launch of this product last July demand has been increasing," Alexandra Henry, Inside Sales, Marketing and Events Manager at 3D Storm – NewTek tells us.

France Télévisions very quickly used it for the shooting of its programmes. Télénantes uses it for its morning show. The Alban Creative Audiovisual Agency has adopted it for corporate films or video recordings for Orange or the Aéroports de la Côte d'Azur.

TBC Media acquired it in the fall of 2020 and the feedback is glowing: "It is ideal for "remote production" with its support for most IP + NDI, SRT, RTMP, RTP, HTTP, SRC video sources as well as standard SDI video sources. All video sources can be accessed and used simultaneously. A great tool, for us but especially for you", says Vincent Perez, business manager at TBC Media.


Discover all the advantages of the TriCaster 2 Elite.