MEDIAKWEST EDITORIAL PRIZE
Journalists from MediaKwest and Sonovision selected 8 products and services for a prize, along with 3 Coups de Coeur and an innovative integration project.
• Production & Filming
– LORA POPCAST / LORA SOLUTIONS: a ready-to-use production server allowing you to build your LIVE with simple and pre-configured tools.
– PXW FX 9 / SONY: a 6K Full Frame shoulder camera with E-mount with 4 audio channels, the first in its category.
– Coup de Coeur: A32 DANTE / FERROFISH: Ferrofish A32 DANTE router converter is the all-rounder for professional audio. It converts between analog, MADI, ADAT and DANTE/AES67 formats with an integrated router.
• Postproduction
– INSIDE / IMMERSIVE WAYS: a software for creating immersive experiences in 360° video and virtual reality.
– LIVE SCHEDULE / NEWSBRIDGE: a tool that allows you to schedule the recording of video contribution streams in real time from a web browser. The functionality targets both specific needs (sports, events, conferences…) and recurring needs (news, media-monitoring, contribution…).
– Coup de Coeur: LA CIE RUGGED PRO / LA CIE: The Rugged SSD Pro combines the spectacular speed of the Seagate FireCuda NVMe SSD with the Thunderbolt 3 interface, for speeds five times faster than traditional SATA SSDs, allowing you to view and render the most demanding high-speed RAW content, such as 6K, 8K source files and Super Slow-Motion.
• Broadcast & Delivery
– TELOS INFINITY IP INTERCOM / TELOS ALLIANCE: the first intercom system without a centralized matrix to add plug-and-play hardware and software easily, without ever worrying about exceeding the number of available ports, as usual on a centralized matrix.
– PIXOTOPE / FUTURE GROUP: a virtual studio and augmented reality solution for broadcast and events using the latest generation of Epic's Unreal Engine 4 3D graphics engine.
– GREEN MACHINE HDR EVIE / LYNX TECHNIK: the first system in the world to use powerful revolutionary algorithms for automatic analysis of the content of a video image and the application of optimal corrections, in real time and frame by frame.
– Coup de Coeur: STREAM LIVE / ATEN: an AV mixer for live streaming, designed for high quality streamers.
• Services
– RF by EUROMEDIA: the first global live transmission of long-distance HF in 4K-HDR. A major first technique that prefigures what tomorrow's long-distance HF UHD coverage will be (Olympic Games/Tour de France).
• Project
Integration of the BTS Audiovisuel Henri-Martin de Saint-Quentin
By moving from SD to IP, the Henri Martin Audiovisual BTS foreshadows what an Audiovisual BTS should be in the future, a hybrid architecture open to the future.
This unique and ambitious project was carried out by BCE and made possible thanks to the perseverance of the BTS management team and teachers. The equipment and infrastructure have been thoroughly renovated, with an IP architecture and an interconnection between the equipment allowing access to the media from any room.
The philosophy of the ensemble is based on a hybrid SDI and SMPTE 2110 architecture with a six-channel EVS server in the nodal area, the channels being shared between the two control rooms of the two platforms. The main set includes a fixed control room with a 64 x 64 SDI grid and a 2110 SMPTE IP network, the EVS server is native 2110, the mixer and multiviewer are hybrid. The other equipment is only SDI (cameras, computer graphics…). IP/SDI converters allow flows to be exchanged between the two worlds.
AUDIENCE CHOICE
Among the 58 products competing for SATIS-Screen4ALL Awards 2019, public voting on Internet awarded for each of our 4 categories, the following products and services:
• Production & Filming
– ORBITER / ARRI: the first ultra bright and versatile LED point source with a wide range of optical accessories
– X GESTORE KINO / B-A INSTRUMENTS: a 16 channel HD/UHD/8K ingest machine for capturing and broadcasting from SDI, IP, NDI, files and Internet streams.
– NDI 4 / NEWTEK: Newtek's NDI version 4 offers new features that make network video production even more efficient and fast, including the ability to record an unlimited number of NDI video channels in perfect sync.
• Postproduction
– XTREAMSTORE BACKPACK / B-A INSTRUMENTS: XSTREAMSTORE universal production servers have been developed to achieve optimal performance, while having an advanced data protection system. Its intuitive interface allows for simple and reliable access management. The hardware redundancy at the base of the hardware guarantees high availability of the whole system.
– ADN PLAY / JL MORIZUR ENGINEERING: an adaptive player dedicated to remote production.
• Broadcast & Delivery
– SPARK PLUS / NEWTEK: The new NewTek HDMI-NDI high-speed IP video converter connects any video equipment and makes it instantly available as an NDI-compatible video source over a network with a resolution of up to 4K/30P with built-in audio (Embedded).
– DANTE DOMAINE MANAGER 1.1: a software solution to secure your Aoip networks by user profiles and rights.
• Services
– KILL THE TAPE / KILL THE TAPE: With only one tool, share, archive, distribute your films up to 50 years old WITHOUT SUBSCRIPTION
– PROTECT & STREAM / JL MORIZUR ENGINEERING: A real-time encryption solution for IP flows (audio, video, control network, etc.), PROTECT & STREAM integrates INES by JLME technology.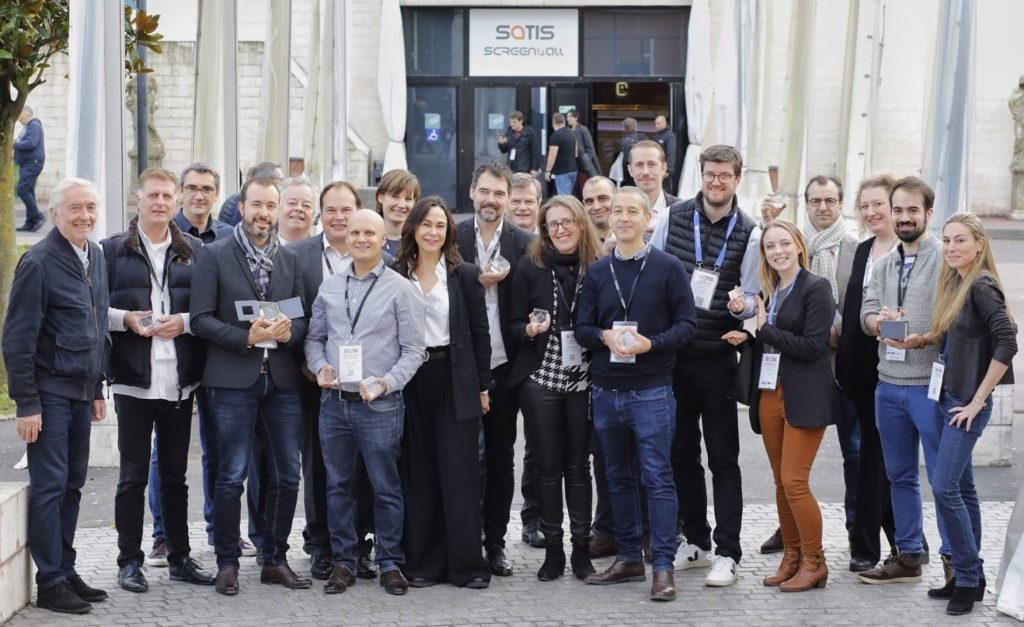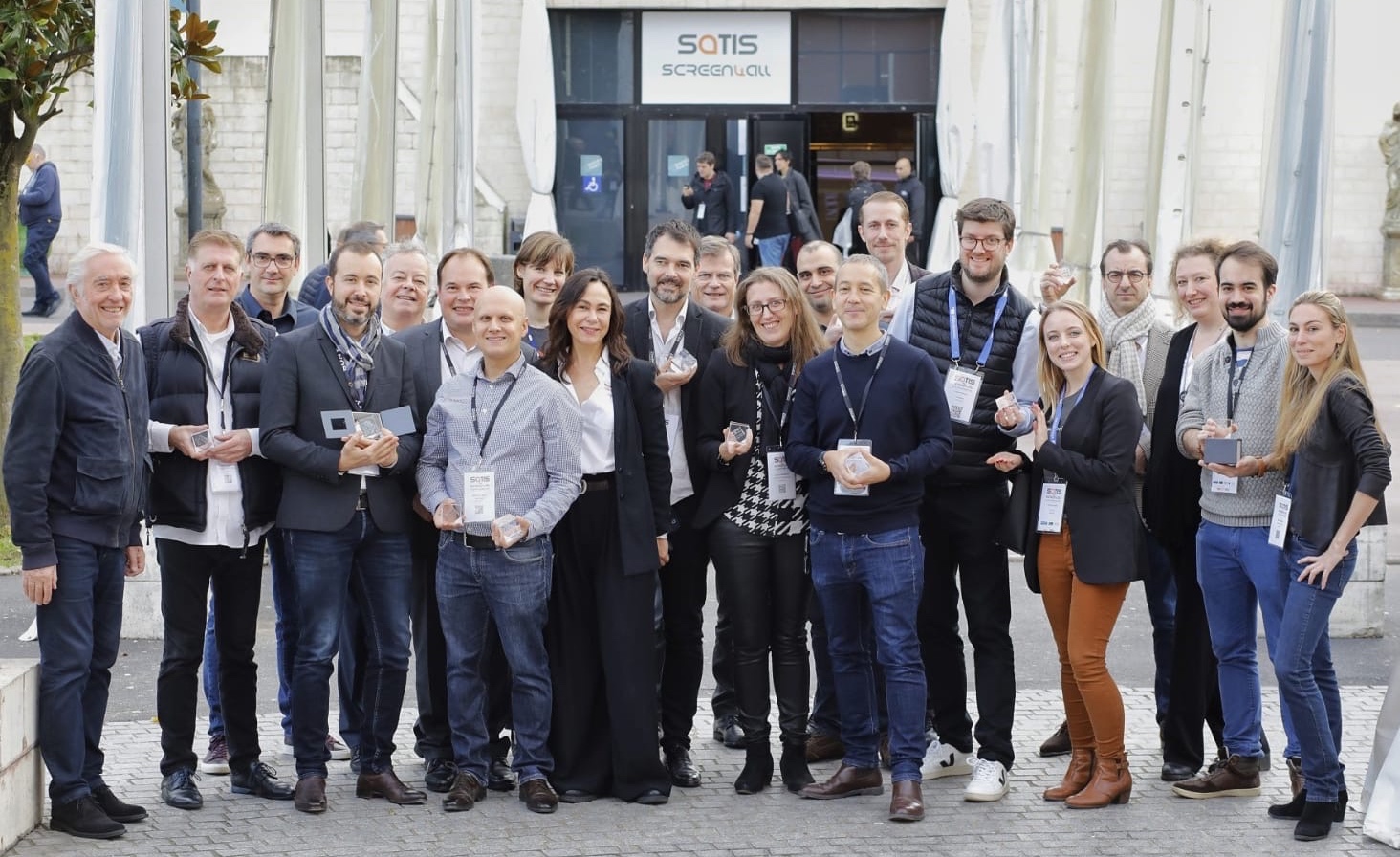 Focus on the Winners of the 2019 edition
At each edition, exhibiting companies offer their latest products and services to the SATIS Awards competition in partnership with Mediakwest magazine. Let's take a look back at the winners of the last edition.
RF by EUROMEDIA
In October 2019, during the 113th PARIS-TOURS race, in collaboration with France TV, the EUROMEDIA teams provided the world's first live long-distance RF broadcast in 4K-HDR complete and native.
Three motorcycles equipped with Grass Valley LDX 86 4KRF camera heads and a helicopter equipped with a Sony P50 shot live UHD-HDR images over the last 100 kilometres of the race to the finish line in Tours where a double PGM production (UHD-HDR and HD-SDR) was made inside the OB Van of France Télévisions.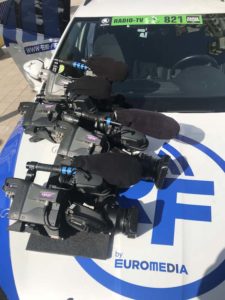 To retrieve these stunning images from the TV, the brand new Livetools Technology links called FusionTx and FusionRx were successfully used. Based on HEVC technology, this new generation of RF links allows Euromedia to double the bit rate of each picture in the same bandwidth channel compared to the previous generation of COFDM links. Thanks to XPRO, its new proprietary modulation developed in-house, Livetools Technology links have delivered outstanding UHD-HDR images without any compromise on robustness or transmission delay.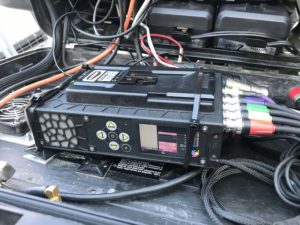 The four live images were decoded inside the C42 EM OB van where a colour gradation was processed at the UHD-HDR level and, after down-conversion, at the HD-SDR level. The four UHD-HDR images and the four HD-SDR images were then supplied to the France Télévisions OB Van.
The PGM HD-SDR was then provided to all right holders while the PGM UHD-HDR was broadcast on French digital terrestrial television (in the regions of Paris, Nantes and Toulouse).
Pixotope from The Futur Group
The distributor / integrator of broadcast and post production Post Logic won a SATIS Award in the Broadcast & Delivery category with its product Pixotope from The Futur Group, an application that interfaces with EPIC's Unreal Engine 3D real-time engine to provide broadcast tools (keyer, camera tracking, color correction …) for the management of broadcast projects of augmented reality (AR) and virtual set (VS). One of the many advantages of the Pixotope solution is that it natively integrates the Unreal Engine, allowing it to quickly benefit from the latest developments of the famous engine such as raytracing or destruction dynamics (Chaos).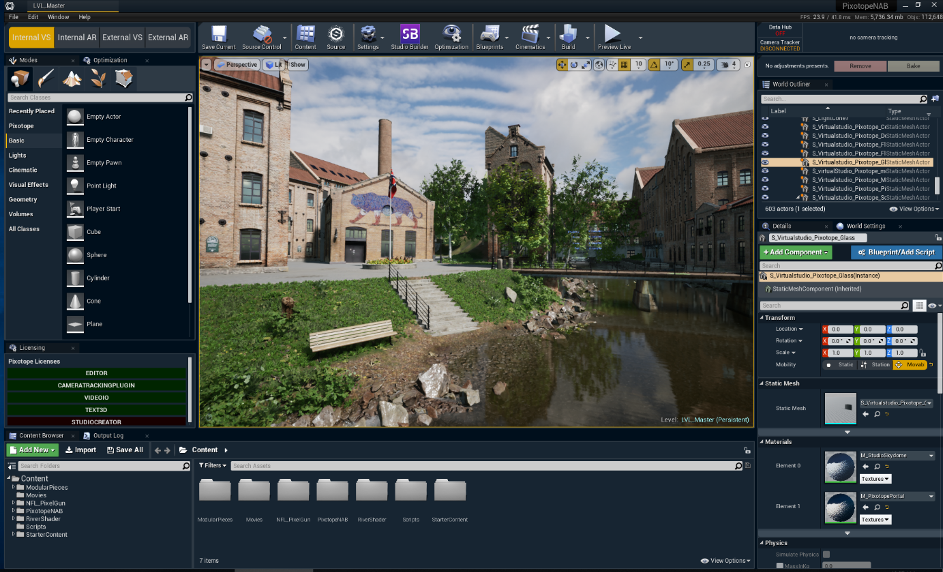 Since the 2019 edition of SATIS, Pixotope is one of Post Logic's flagship products. "Version 1.2 has already been released and the product has recently been used by TF1 to create an immersive sequence for a TV news show and other projects are in progress" explains Ludovic Gaujal. "Since SATIS, for our demonstrations, we have installed a green background set with camera tracking in Boulogne," he adds.
Version 1.2 mainly brings the following new features:
Color management.
True real-time HDR integration.
3 levels of independent color corrections.
Improved compositing system.
Improved video keyer and input media quality.
Combined AR and VS.
Improved workflow.
Updated calibration and sample projects.
Native integration with Unreal 4.23.1.
and much more
Pixotope introduces in this new version a complete workflow for colour management, compositing and support for real-time HDR for TV and cinematic visual effects. The new color management system introduces 3 levels of independent color corrections for better color control, ideal for last minute changes.
Pixotope also includes new user-requested features such as the ability to import configuration settings or output the chroma keyer key to SDI. This version gives users access to the full power of the Unreal 4.23.1 engine including real-time ray tracing.
Find the first use of the Pixotope for the TF1's TV News show here.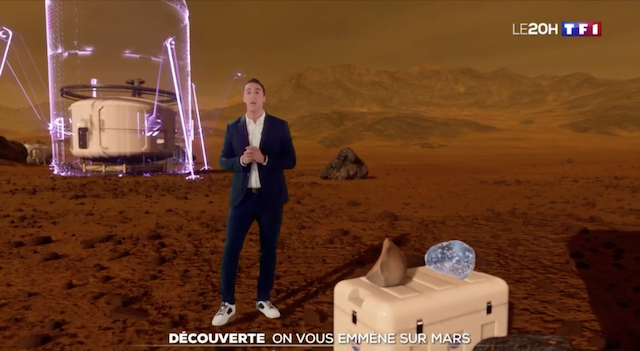 A32 DANTE from Ferrofish
Audiopole won the Coup de CoeurSATIS Awards in the Production & Tournage category with his product A32 DANTE, a true Swiss Army knife for audio.
If you didn't see it at the SATIS a catching up session with Jean-Philippe Blanchard from Audiopole is a must!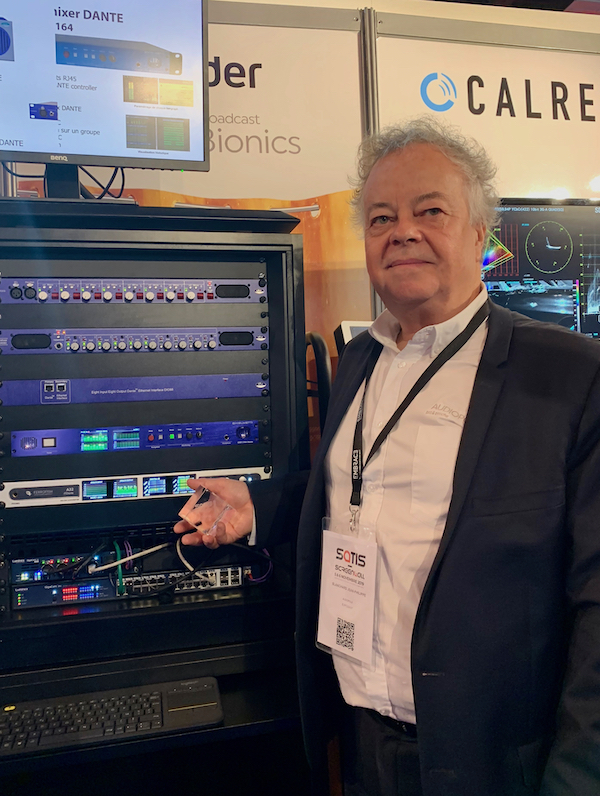 "The A32 DANTE is the all-rounder in professional audio with a particularly clever ergonomic design," explains Jean-Philippe.
With four high-definition TFT displays that show either bargraphs, XY grid, or digital input/output status, everything is visible and easily accessible on the front panel.

It converts between analog, MADI, ADAT and DANTE/AES67 formats with an integrated router. So, with 32 analog inputs/outputs, a total grid of 192 x 192. The level of all analog inputs and outputs can be easily adjusted with small on-screen faders and it is also possible to create 7 stereo mixes from the inputs or outputs. The output of the mix can be routed to the headphone output or to two analog outputs. This headphone output also allows you to listen to any input or output of the system. The 64-channel MADI input is available on fiber optics or coax.
Audio quality has been especially studied with a temperature-compensated internal clock, a proprietary jitter reduction circuit and a Sharck DSP processor to manage the 258 channels.
Presets can be used to quickly recall a configuration and to use the A32 as a back-up grid for example, especially since a redundant power supply is available as an option.
LORA PopCast from LORA Solutions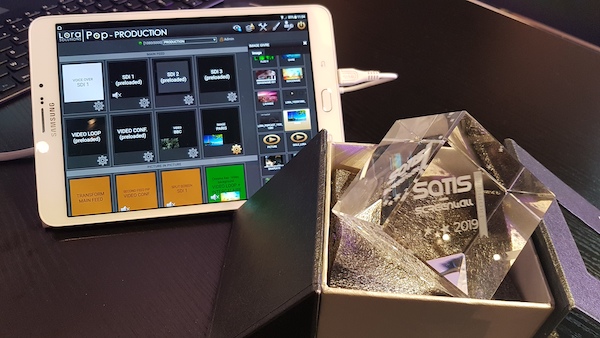 LORA Solutions won a SATIS Award in the category Production & Filming with its product LORA PopCast, a ready-to-use production server allowing you to make your LIVE with simple and pre-configured tools.
It integrates the essential functions of production: aggregation of SDI, IP, NDI or videoconference streams, playback of video files, inlaying of logos or dynamic dressing, possibility of Picture-In-Picture, Split Screen or Chroma Key.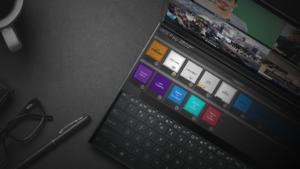 It allows you to preview all your sources and your output signal in a Multiview recoverable in SDI, IP or directly on your computer screen.
Its control interface is accessible from any computer, tablet or phone via a simple web browser. Based on the principle of Push Button, you can make your show LIVE in a very simple and intuitive way.
You can then automatically broadcast your program in SDI, IP and/or directly to social networks (Facebook, Periscope, YouTube, Twitch…) or even save it as a file for later broadcast.
"At the beginning of the year, we installed the product at clients' sites. Unfortunately, due to the current sanitary context, they did not have time to take it in hand. We will communicate in more detail in the coming weeks. We are currently working on a new, even more portable and integrated package of PopCast. This novelty will be presented at the next edition of SATIS" announced Hélène Ly from LORA Solutions.
To be continued.
Sony PXW FX 9 camera
With its new 6K Full Frame sensor, this shoulder camera with E-mount and 4 audio channels, is the first 6K camera in its class… This explains why Sony won a SATIS Award in the category Production & Filming.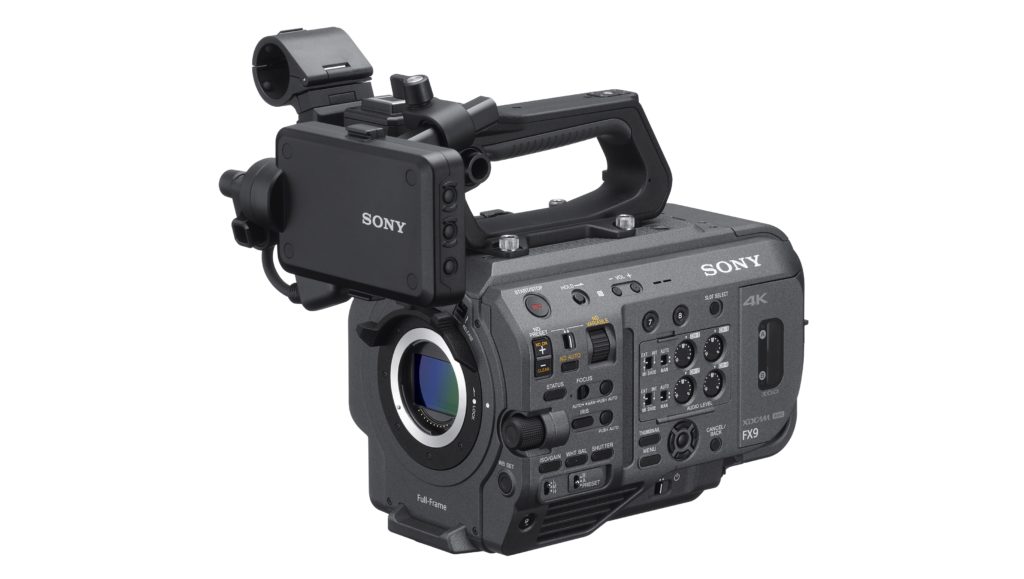 Designed for documentaries, music videos, fictions, Sony bets on increasing the sensor size with the PXW FX 9. The recording format initially supported is 16:9. But with the V2, 17:9 in 4096×2160 (with 19 million active pixels) is possible.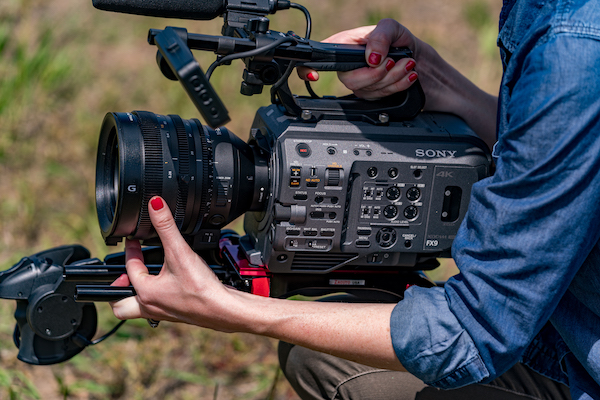 Oversampling by the full-format 6K sensor allows you to create high-quality 4K sequences with impressive bokeh effects in a shallow depth of field. The world's first professional camcorder with Eye Tracking technology from Sony, the world leader in this field. High-speed, high-precision image processing maintains precise focus. During an interview or portrait, you can rely on Eye Tracking AF to keep your subject in focus while you concentrate on the interview and framing.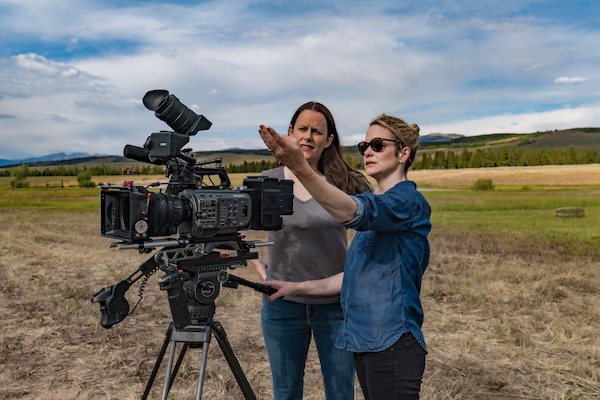 The V2 offers many features that you can discover here. his new version is planned to be released next October, just in time for the SATIS 2020 edition.
Inside Studio by Immersive Ways
Software for creating immersive experiences in 360° video and virtual reality, Inside Studio is the indispensable audiovisual editing tool for professionals, trainers and amateurs of immersive experiences.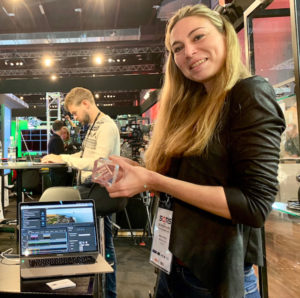 The Pro version of the SATIS Award, Postproduction category, has just been released, integrating interactive editing. Inside player has been deployed on Oculus. Discover the new version without further delay on the dedicated website: https://insidestudio.io/.